Trenchless Sewer Repair: Less Time, Money, Stress And Mess
Although the sewer system may not have been high on your priority list for things to check before choosing to purchase a property, it can have a significant impact on how well you adjust to your new property and its overall monetary value. Thanks to the rich history of the Seattle region, many of the more established neighborhoods are dependent on older sewer systems for all their drainage and waste removal needs. Even when a new sewer system of sorts has been installed in an area, adjustments may be needed to ensure proper long-term functionality.
Fischer Sewer has been providing sewer maintenance, repair, and replacement services for the Seattle area for over thirty-five years. We are dedicated to providing our clients with high quality water system services in the most convenient manner possible at prices everyone can afford. One of our many specializations includes trenchless sewer repair, a newer method of sewer repair and replacement that is easier, cheaper, and more durable than many more traditional methods.
What are some common sewer problems?
Depending on how your property's drainage system is set up to the sewer system of the community, a number of different issues can cause problems. Simple buildup of debris or minerals after years of use by multiple family units is a common issues, requiring some kind of unblocking services that may or may not require the replacement of some elements of the system.
Sometimes older sewer pipes can begin suffering from corrosion due to some climatic circumstances or low-quality tubing, also requiring repair or replacement services. Along those same lines, tree roots, rodents, and insects can cause sewer lines to begin leaking into the surrounding areas, causing potential contamination and a drainage system that can't be depended on.
When you recognize a disturbance in your drainage system or see damage due to a real sewer emergency, you first step of action should be to attempt to find or identify the source of the problem. If you can't figure out what is causing the backup, leak or other issue, Fischer Sewer can send a fiber optic cable through the sewer system until we find the problem. If the pipes are deep underground and difficult to locate, the GPS location on the camera will tell us where exactly to dig to solve the problem while causing the most minimal amount of collateral damage to your property as possible.
What is trenchless sewer repair?
Trenchless sewer repair is on the cutting edge of plumbing technology, allowing us to repair or even replace your sewer piping without having to actually dig up the sewer lines themselves. For properties whose water systems are deep underground or that have not been properly mapped out, being able to mend a broken pipe without tearing up an entire room full of floorboards or a whole lawn of grass to get at the area and provide sufficient space to do the job.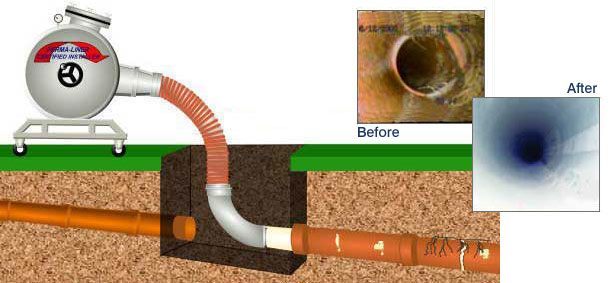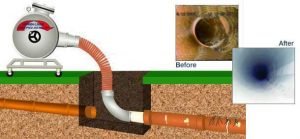 Trenchless sewer repair is done by digging two holes, one at the beginning of the pipe to be repairs or replaced and one at its end. A polyethylene tube is then pushed through the malfunctioning tubing to gradually push it out of the way. The material of this tubing is superior to most older types by being more durable against roots, insects, and corrosion.
Because a trenchless sewer repair requires little preparation, it can be conducted relatively quickly. In addition, the quick setup and execution along with the strong yet economical piping that is used with these procedures allows it to be a much more affordable option than replacing malfunctioning pipes in the traditional manner of excavation and re-installation.
Fischer Sewer has been providing trenchless sewer repairs for years, saving families time and money in the repair process. We can help you avoid the stress of an extensive sewer system repair by opting for a trenchless option that non-invasively solves your problem.