Sewer Repair Downtown Seattle WA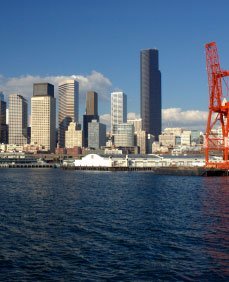 Living in downtown Seattle, WA can be one of the best experiences of your life – full of art, culture, business, sport, and people that welcome you with the warmest of hearts. With so many amazing people living and working in such a compact area, however, plumbing problems that may or may not stem from your actual building can occur easily. Having a plumber you can trust, like Fischer Sewer, can save you a lot of trouble when the unexpected plumbing issue occurs.
Fischer Sewer has been working in the Seattle area for over thirty years, providing your friends and peers with the highest standards of plumbing services available. We understand how frustrating it can be for your plans to be affected by something as unforeseen as blocked pipes or a flooded bathroom, so we promise to be available wherever and whenever you need us. Our clients are our priority, so we make sure to work closely with all of our customers to provide the exact type of service they require in the fastest and most affordable manner possible.
Trenchless Repair
Fischer Sewer in downtown Seattle, WA only works with the most professional and qualified plumbers available, guaranteeing that you will be satisfied with your experience with us, regardless of the specific plumbing issue you are facing. We use the newest and most effective technologies possible for sewer repair in downtown Seattle, WA, focusing on pinpointing the problem as quickly and effectively as possible while disturbing you and your property as little as we can. We use GPS locating devices and video cameras for tricky locating jobs, pairing those with noninvasive sewer repair options like trenchless sewer repair and shared-side pipe repairs.
If you are more concerned about drain cleaning in downtown Seattle, WA, we've got you covered as well. We can clear out sentiments build up over decades or remove a specific blockage in any of your pipes in no time, getting you back to your normal activities in the blink of an eye. We can help you flush out your filtration systems or heaters as well, making your entire water system as good as new.
Fischer Sewer is here for all of your plumbing and sewer repair needs in downtown Seattle, WA. To get an idea of how we work, check out a few of our customer testimonials from your peers. Feel free to give us a call or send us an email describing your situation for some advice and a free estimate on the plumbing work that can help you solve your problem. Don't settle for just any plumber – work with us at Fischer Sewer for a dependable, qualified professional that will stay by your side for years to come.